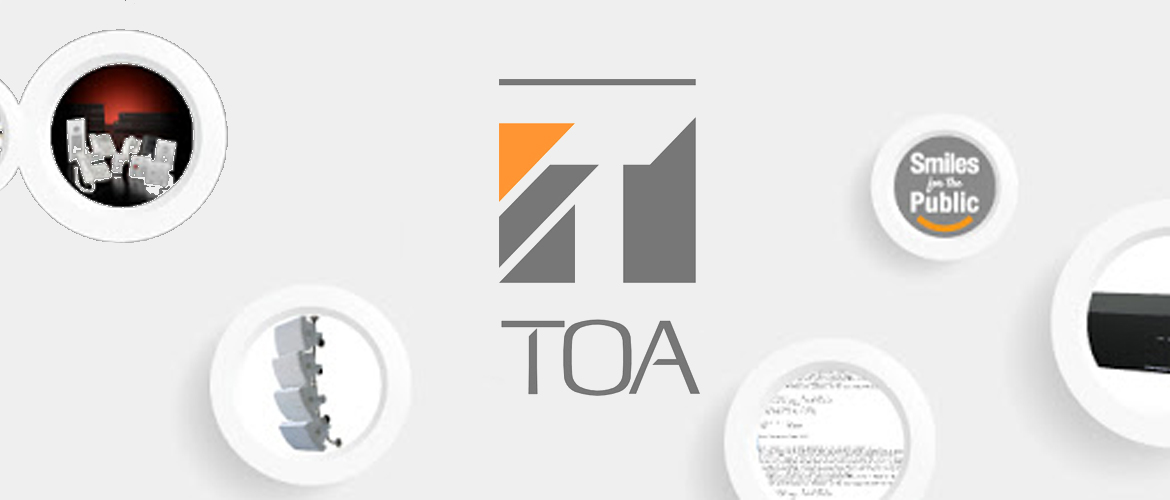 TOA
Japan has long been revered for its rich cultural heritage and commitment to excellence in craftsmanship. Within this vibrant landscape, TOA stands tall as a shining example of Japanese artistry. TOA Corporation is a renowned professional audio equipment brand specializing in amplifiers and speakers. With a history spanning several decades, TOA has established itself as a leader in delivering high-quality sound reinforcement solutions for various applications.

With a legacy dating back several decades, this distinguished brand has established itself as a pinnacle of innovation, precision, and quality. From their impeccable attention to detail to their unwavering dedication to traditional techniques, TOA has carved a niche in the global market, captivating discerning consumers and enthusiasts alike. We delve into the fascinating world of TOA, exploring its ethos, signature products, and the secrets behind its enduring success.
At the heart of TOA's philosophy lies an unwavering commitment to uncompromising craftsmanship. Each product that bears the TOA name embodies the meticulous attention to detail and the relentless pursuit of perfection synonymous with Japanese culture amplifiers known for their reliability, performance, and versatility. They offer various amplifiers suitable for different settings, from small venues to large-scale installations. TOA amplifiers are designed to deliver clear and powerful sound, ensuring that the audio signals are amplified with precision and fidelity. Whether it's a concert hall, conference room, stadium, or house of worship, TOA amplifiers provide the necessary amplification to enhance the audio experience.

TOA's reverence for tradition is deeply ingrained in its DNA. The brand's artisans masterfully blend age-old techniques with contemporary aesthetics, resulting in products that bridge the gap between the past and the present. Whether it's the intricate art of ceramics, the delicate artistry of lacquerware, or the artful weaving of textiles, TOA's craftsmen embrace the wisdom of their predecessors while pushing boundaries to create modern interpretations. This harmonious fusion allows TOA to offer products that captivate the senses and serve as a testament to the enduring legacy of Japanese craftsmanship.
TOA's commitment to innovation is reflected in its continuous development of cutting-edge technologies. They strive to incorporate advanced features into their amplifiers and speakers to improve performance and user experience. This includes features such as digital signal processing (DSP), network audio capabilities, and integrated control systems, allowing for seamless integration and control of the audio systems.

Furthermore, TOA places great emphasis on durability and reliability. Their products undergo rigorous testing and quality control measures to ensure that they can withstand demanding conditions and deliver consistent performance over time. This makes TOA amplifiers and speakers suitable for various applications, including live sound reinforcement, public address systems, background music, paging systems, and more.
Overall, TOA is a trusted audio industry brand known for its exceptional amplifiers and speakers. Whether you are a professional sound engineer, installer, or audio enthusiast, TOA offers a comprehensive range of products to meet your audio needs while delivering high-quality sound reproduction and reliability.
NRs {{product.inventories[0].selling_price_per_unit}}
NRs {{product.inventories[0].selling_price_per_unit}}
NRs {{Math.round(product.inventories[0].selling_price_per_unit - (Number(product.discount_percent)/100 * product.inventories[0].selling_price_per_unit))}}
NRs {{Math.round(product.inventories[0].selling_price_per_unit - (Number(product.discount)/100 * product.inventories[0].selling_price_per_unit))}}
NRs {{product.inventories[0].selling_price_per_unit}}
Out of Stock
NRs {{product.inventories[0].selling_price_per_unit}}
NRs {{product.inventories[0].selling_price_per_unit}}
NRs {{Math.round(product.inventories[0].selling_price_per_unit - (Number(product.discount_percent)/100 * product.inventories[0].selling_price_per_unit))}}
NRs {{Math.round(product.inventories[0].selling_price_per_unit - (Number(product.discount)/100 * product.inventories[0].selling_price_per_unit))}}
NRs {{product.inventories[0].selling_price_per_unit}}