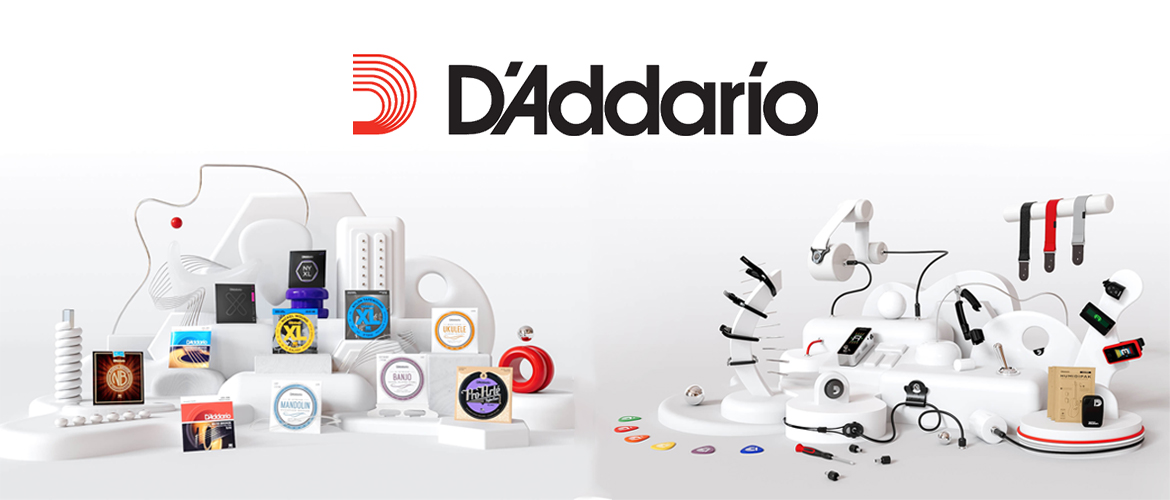 D'Addario
D'Addario is a world-renowned manufacturer of musical instrument strings and accessories. With a focus on guitar strings, D'Addario is also a leading producer of strings and accessories for many other fretted and orchestral instruments. As an authorized dealer for D'Addario, we proudly offer our customers their range of products.
D'Addario's products include various guitar strings, including acoustic, electric, and bass guitar strings. They also offer strings for instruments such as the ukulele and violin and reeds for all wind instruments. In addition to strings, D'Addario produces a variety of accessories, such as guitar straps, picks, capos, tuners, drumheads, and drumsticks.
With a commitment to quality and innovation, D'Addario has become one of the world's largest manufacturers of musical instrument strings and accessories. Their products are trusted by musicians of all levels, from beginners to professionals, and their dedication to excellence has earned them a loyal following.
As an authorized dealer for D'Addario, we are dedicated to helping you find the perfect strings and accessories for your musical needs. Whether you're a guitarist, violinist, or wind player, we have the expertise and knowledge to guide you through the selection process. With D'Addario's wide range of high-quality products, you can be confident that your instrument gets the best possible sound.
NRs {{product.inventories[0].selling_price_per_unit}}
NRs {{product.inventories[0].selling_price_per_unit}}
NRs {{Math.round(product.inventories[0].selling_price_per_unit - (Number(product.discount_percent)/100 * product.inventories[0].selling_price_per_unit))}}
NRs {{Math.round(product.inventories[0].selling_price_per_unit - (Number(product.discount)/100 * product.inventories[0].selling_price_per_unit))}}
NRs {{product.inventories[0].selling_price_per_unit}}
Out of Stock
NRs {{product.inventories[0].selling_price_per_unit}}
NRs {{product.inventories[0].selling_price_per_unit}}
NRs {{Math.round(product.inventories[0].selling_price_per_unit - (Number(product.discount_percent)/100 * product.inventories[0].selling_price_per_unit))}}
NRs {{Math.round(product.inventories[0].selling_price_per_unit - (Number(product.discount)/100 * product.inventories[0].selling_price_per_unit))}}
NRs {{product.inventories[0].selling_price_per_unit}}